BEST THINGS TO DO IN ZURICH
PLACES TO VISIT IN ZURICH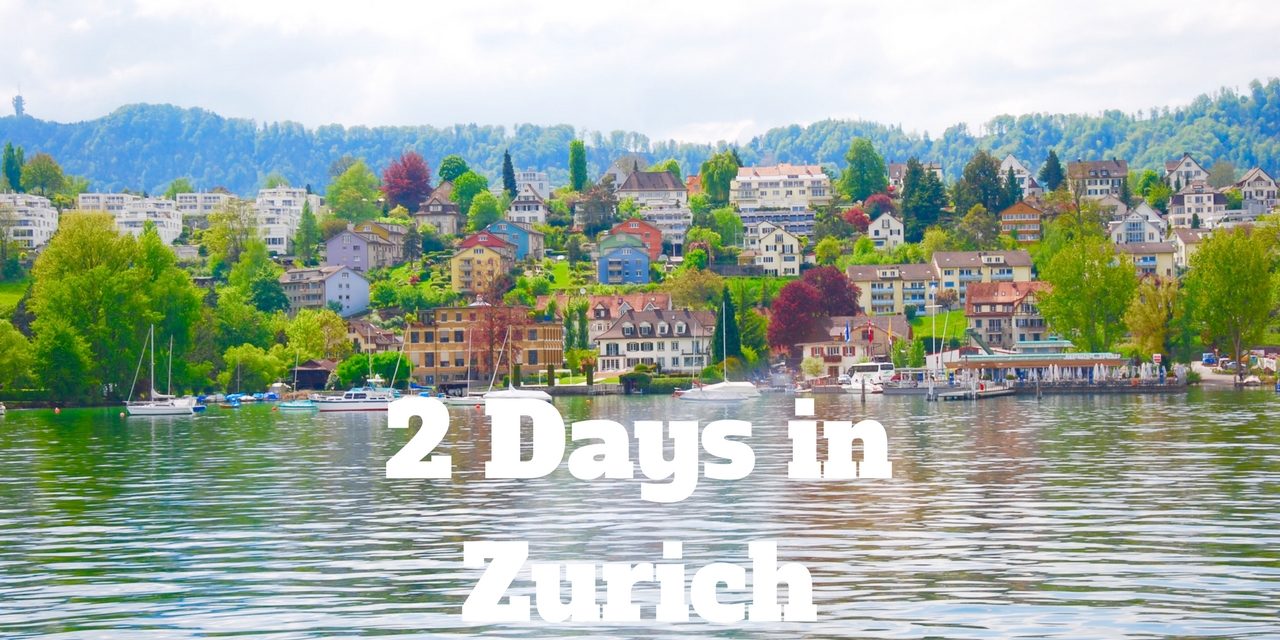 Without question, Switzerland is one of my favorite countries ever. Although I fall in love with many of the places I visit, there's one place I love a little bit more than the other places I have visited in Switzerland, and that is Zurich.
Zurich is the biggest city in Switzerland and a must-see place. If you plan a visit to Switzerland, you should definitely add a trip to Zurich to your itinerary, you will not regret it!
In the last eight or nine years, I have visited Zurich as many times and I cannot get enough of it. It is one of those places that makes you feel at home because it is so peaceful and pretty. Because it is small you won't get lost, but it is not so small that you will feel bored.
There are a lot of cafes and restaurants as well as lots of opportunities for shopping, in addition to loads of greenery and nature to surround yourself with.
It is a city, small, but a city – and one of the best places to see in Switzerland (btw: here are more tips about the best things to do in Switzerland) and if you are asking yourselves questions like "What to do in Zurich?", "Where to go in Zurich?" or just about the "Best things to do in Zurich" you will find all your answers in this post! Also, you will get some important Zurich travel information.
But before I talk about the best things to do in Zurich, I will provide you with some important travel information and so I have provided a Zurich pre-travel guide for you. If you do not need that information just keep scrolling down and you will find my top tips for things to see in Zurich.
Zurich is also very, very, very expensive. This is a fact that no one can ignore, however, I think it is still worth every penny
VISIT ZURICH – IMPORTANT TRAVEL INFORMATION FOR ZURICH
HOW TO GET AROUND
Zurich has amazing public transport – so I recommend getting around by tram/bus.
With the Zurich Card, you can use public transport and have free entry to almost all museums in Zurich which is great to explore much of the city. Public Transport is pretty good and you can rely on it.
WHERE TO STAY IN ZURICH
As mentioned, Zurich is very expensive, and there are no real bargains.
If you need to budget, I recommend booking an Airbnb apartment
I recommend staying close to the city center but since the public transport is pretty good, you can also book a hotel a bit further away and you will still be mobile. Most often, I stayed at the house of my friend who lives in Zurich, but I also stayed at Renaissance Zürich Tower and Mövenpick Zurich Regensdorf which I can recommend, though they are not very central (but since public transporting is great, it is fine to stay there in Zurich).
Luxury Hotels in Zurich
Dolder Grand & Baur au Lac & Storchen Zurich are some of the best-rated luxury hotels close to the city centre.
Mid-Range Hotels in Zurich
Hotel Krone & Arlette am Hauptbahnhof & Hotel Opera are some of the best-rated mid-range hotels close to the city centre.
Budget Hotels in Zurich
Warning, there are not many budget hotels in Zurich, this one is a good-rated hostel in Zurich.
WHERE TO EAT
Zurich is a paradise for vegetarians and vegans. There are so many restaurants offering vegan food and even several complete vegan delis and restaurants – which are very well visited. Read the review of a great 4* hotel and about my vegetarian dining experiences at Mövenpick Hotel Zurich so when you visit Zurich as a vegan you will be pleased (and as a non-vegan you will also be pleased :).
There is so much to do and see but I will just focus on: what to visit in Zurich and what to do in Zurich.
Check out the best prices for flights I hotels I activities and tours in Zurich
BEST THINGS TO DO IN ZURICH
SWIM IN THE LAKE
The lakes in Switzerland are pretty clean and it was in Switzerland where, for the first time as an adult, I voluntarily hopped into lake water.
I must admit, though I still sometimes feel weird swimming in lake water, to me Lake Zurich is one of the places where I feel OK with it. The water is pretty clear and if you head from the town center to Lake Zurich, if you turn right then you will find a lot of greenery and places to rest before hopping into the water.
One of the best places to swim is close to the Rentenanstalt. If you walk down the Bahnhofsstraße towards Lake Zurich, turn right at Bürkliplatz and walk a few hundred meters (there is also a tram stop) you get to enjoy a wonderful day at the lake.
DO A BOAT TOUR
Of course, I have to mention doing a boat tour on Lake Zurich.
Here you have a few options, you can either do a short, medium or long cruise on Lake Zurich. The short cruise is free with the Zurich Card at a charge of five euros and with the Swiss Travel Pass, you can do all of these tours for free (plus a surcharge of five euros).
There are several stops where you can get off to have a break, just make sure not to miss the last boat back to Zurich Bürkliplatz!