I just got back from the Disney Social Media Moms Celebration, which included a three-night Disney Cruise. You're probably wondering what that is, aren't you? Disney Social Media Moms Celebration is an invite-only conference for bloggers and social media influencers and I was lucky enough to be asked to come this year. Insiders refer to it as getting "pixie dusted" and that's a great way to put it. The 2017 event was a "Land and Sea" experience, with two days at Disney World in Florida followed by a three-night cruise on the Disney Wonder.
Disclaimer: We are a participant in the Amazon Services LLC Associates Program, an affiliate advertising program designed to provide a means for us to earn fees by linking to Amazon.com and affiliated sites. This post may also contain affiliate links to other sites where I will be paid a commission by the seller if you make a purchase.
Some business up front: I did pay a fee for the conference and my travel to Orlando but the trip came with a ton of perks and discounts. I'm not being compensated to write this post and all opinions are mine alone. I'm sharing this solely in the interest of helping other families plan their vacation travel. And spreading a little love and pixie dust, of course.
If you're interested in learning more about my family's Disney experience, please consider subscribing to my blog. I send out one email a month that captures all my blog posts.
The three-night cruise on Disney Wonder was my third cruise, my second cruise with kids and my first Disney Cruise. I've decided that we're definitely "cruise people" and I'm already planning our next adventure out to sea. Did I mention I've been home less than 48 hours?
It was that good.
1. The Welcome aboard
If you've ever been on a cruise, you know the feeling of "following the herd" when you board the ship. A Disney cruise is different. Maybe we were just lucky that everything went smoothly and seemed un-rushed but I think that's just Disney's way of doing things.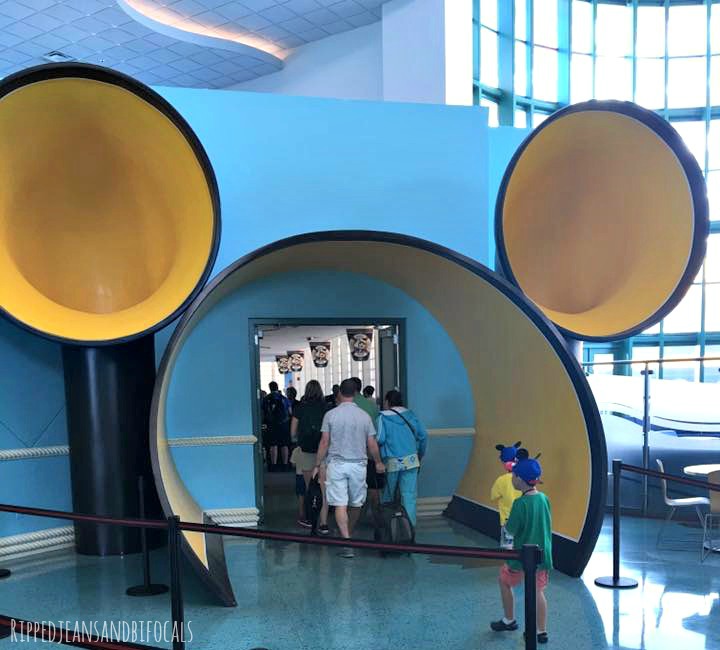 When we stepped on board the ship, the Cast Member inside asked us our family's last name. "Robbins" we said without questioning why. I mean…it seemed like a simple enough question.
"Please welcome aboard the Robbins Family."
This was shouted into a microphone and all the crew standing nearby clapped and cheered as we crossed the threshold.
I almost cried.
This immediately set the tone for the entire trip and also? Now I know what it feels like to be visiting royalty.
The sail away party is an awesome, high-energy dance party that really gets you pumped about your vacation…if you're not already there. There's music. There are pom poms.